Fate Bestiary
Nov. 18, 2018, 2 p.m.
Hello all. Sorry for the radio silence for the past week. I have been working hard on adding an exciting new feature to the blog: a bestiary for Fate Core! I'm working on more features at the moment, but I already have the core functionality in place.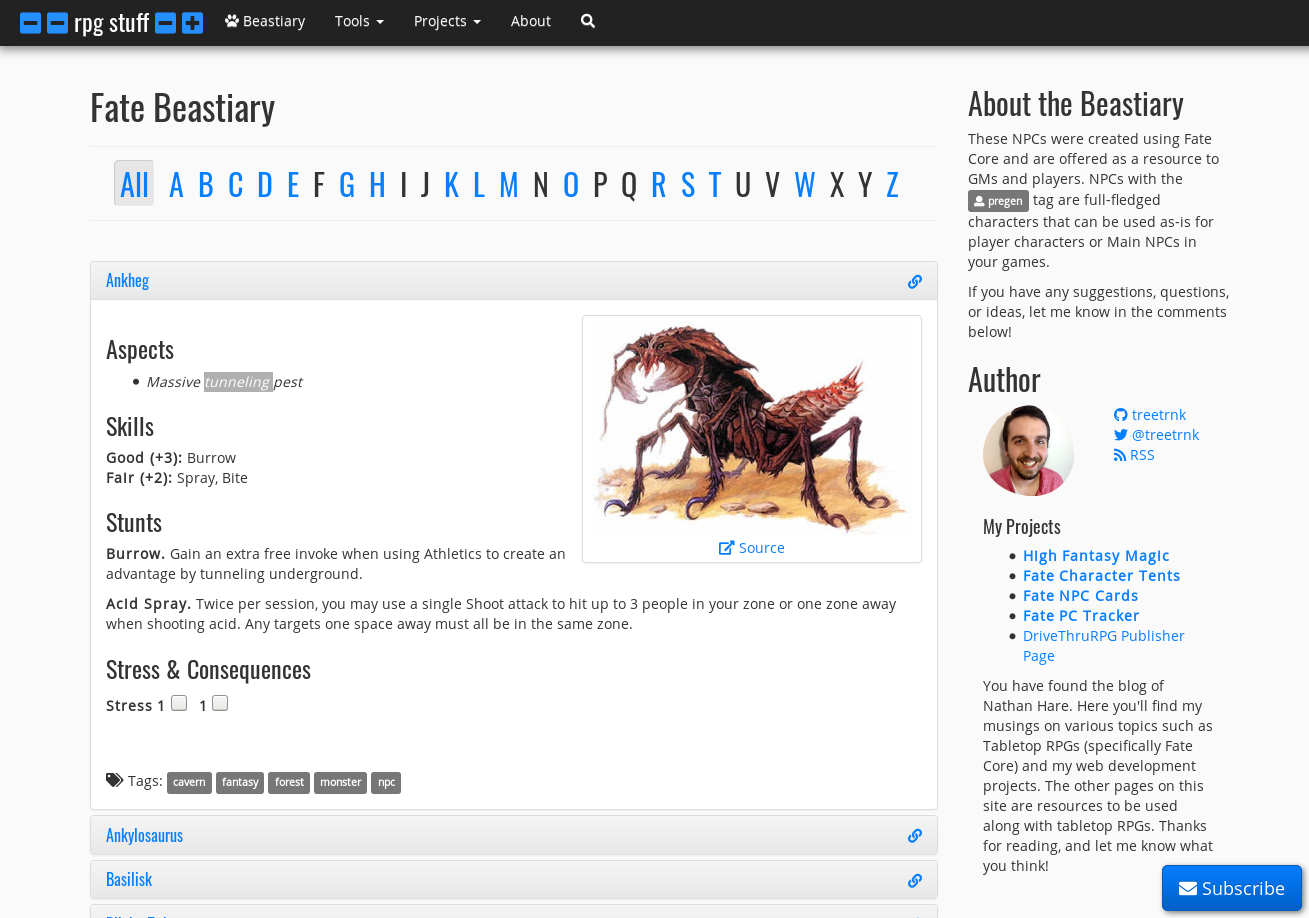 The bestiary is designed as a tool to be used with or without modification. Each NPC added is built as I have or would use them in my games, but it is definitely not the only way to build them. Feel free to pick just the parts of each build that you like, or even use them as inspiration for your own build. However, if you do choose to use them as is you can run them directly in your web browser by checking off stress boxes and filling in the consequence slots provided.
Some of the weaker NPCs, like Skeletons in particular, may be built a little stronger than they need to be. I did this mainly so that I could add more useful skills and stunts if you plan to use the NPC in a greater capacity in your games.
You also might notice that some enemies are insanely strong, like the Kraken. This too is intentional because I believe Fate is perfectly suited for enemies that may be too powerful for your players to overcome. Conflicts shouldn't always be about beating the baddies until they're dead, so defeating monsters like the Kraken may not be the party's goal. If it is, it just means they'll need to be creative in their approach. If they fail, concession is always available to the players as a way out. But enough of that. That's a topic for another post entirely.
Also of note, I am using a pregen tag in the bestiary to collect all of the NPCs that can be used as pregenerated characters.
If you have any questions, or have any ideas for NPCs you would like to see added, please drop a comment over on the bestiary page! I hope you find it useful!
Unless stated otherwise, the text of the above blog post is licensed under a Creative Commons Attribution-NonCommercial 4.0 International license.


Timelapse Video: The Hunt by Jason Coates is licensed under CC BY-NC-SA 3.0.
Tags:
fate core
npc
pregen
tips
tool
ttrpg
Older Post
Newer Post
---

Copyright © 2018, Nathan Hare
All rights reserved